In my last post about our trip, I described the scenario before I almost fell asleep. This is a continuation to the previous post and is a description of the journey. Please ignore language errors.
06:00AM February 27, 2009
I am sitting on a box. A huge stack of bags is placed next to me. Its height is almost equal to that of my shoulders (while I am sitting). I rest my head against the bags. I feel a bit better and now I am trying to sleep. I have covered myself with a piece of cloth. Only Somani is awake now. Next few minutes are as described by Mahaveer (who was sleeping in some other compartment, wakes up and comes to the place where we were sleeping).
Bhai (Kapil A) is sleeping in Somani's lap. Somani's face as usual looked like the face of some guy who was beaten all night by few cruel drunkers and left to die 😛 Still giving a strong fight to his laziness, Somani managed act in a manner that expressed his desire to play cards.
Mahaveer shouts in a loud voice, "WHAT THE FU**?? GUYZ, THIS PLACE IS HEAVEN. YOU LUCKY BITC**S". I wake up with a shock and figure out that everybody was up and equally shocked. Later Mahaveer explained that Sambhav took him to some really fu**ed place where they were sleeping since last few hours. We all feeling a bit blessed (as if we were in first AC) . Few minutes later, Sambhav also joins us.
We (me and Sambhav) kicked Somani and Deepak out and went to sleep. Deepak who was sleeping till now, will take care of the luggage. It is a great feeling to have a place where you can actually sleep. Soon I fell asleep.
Checkout Somani in the video.
Mahaveer is not able to find a place to sleep and hence trying to frustrate Somani (which is the easiest thing to do) just for some fun 😛 After a lot of failed efforts, Mahaveer has decided to sleep while sitting against the door. But there is a fight even for that small place. Somani also wants to sleep. So, Mahaveer and Somani has decided to use the place to sleep on a time division basis with no overtime allowed under any circumstances.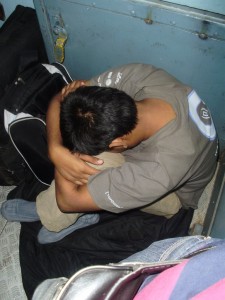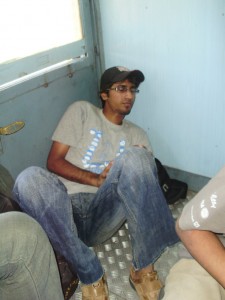 We are now at Nagpur station. Everybody is overwhelmed to see the food that Kapil's parents has brought for us. We are waiting for the train to start so that all of us can have the awesome food we have just got.  A long horn and train starts slowly. Everybody settled. Bhai is serving the food to everyone following the Royal protocol. What an amazing food that was!!! Aaloo-poori, pulao, mithai, all Haldiram stuff from Nagpur and what not … The journey/miseries so far felt like nothing for that awesome food. Thanks a millions Bhai for the food.
After having that awesome lunch we started playing UNO. Sambhav and Kapil are sitting next to wash basin. As it is lunch time a lot of people are coming to wash their hands which is time and again troubling Sambhav. I am thinking of ideas to block the wash basin so that people will automatically prefer the washin in toilets but none of them is working. Now it has got interesting. Two girls (of age group 23-27) are here to wash their hands. First one washes her hands and returns with no trouble. Now its the time for the second girl to wash her hands. OMG she is having difficulties. Her second hand is not able to reach the tap while she is trying to fetch water with the other hand. I am observing every single moment hoping for something to happen. oh shit.. she managed to spill some water over Sambhav (a big fu**ing smile on my face forcing Sambhav to react to the incident). But before Sambhav could say something, the girl shouts, "Hat kar nahin baith sakte kya?? Log haath kaise dhoyenge yahaan??". Rest of us overjoyed by the incident shouts at Sambhav in chorus, "Kaisa hai be… jab koi aaye to thoda hat ke baitha kar … kab se bol rahe hain tujhe ..".
We played UNO for hours. Almost till 5PM. It was damn hot and the hot air through the doors was killing. We reached Bhopal at 6:30PM. Now S10 and S9 was almost emty. Few of us went there and slept.
Thats it for today. The most dangerous part of the journey till Jaipur is still left. Wait till next post.
To be continued…