Finally after stumbling for almost 2 months, I have got my brand new ViewSonic VG1930WM 19″ WideScreen LCD monitor. I gathered the money almost 2 – 3 months ago, but was not able to decide which monitor should be purchased. For last two months, I stumbled on Samsung SyncMaster 940NW which was a bit costlier for the features, AOC 199S which was also costlier, ViewSonic VG1930WM which provided the same features, but the price was a bit attractive. I browsed through enormous monitor reviews, huge price lists on the internet and what not. Then in the beginning of this month when I was about to go to buy the monitor, I was told that the Paradise market remains closed on Sundays. Then, we have hectic schedule throughout the week, so could not go. Then these hyderabad serial blasts went off, again a hurdle.
Finally, today ignoring everything else, we, me and ajay somani went to paradise computer market. I got my ViewSonic and ajay bought a Seagate Sata II 500GB external hard disk with Seagate casing. I bought the monitor for Rs. 10200/- and ajay bought the HDD for Rs. 8700/- .
The monitor is really wide and its looks are just awesome. I can't express my happiness and monitor's beauty in words. The monitor support a 1440×900 resolution and has a fantastic response time of 5ms. It also has the inbuilt speakers. The complete technical specs of the monitor is here.
Here are the pics …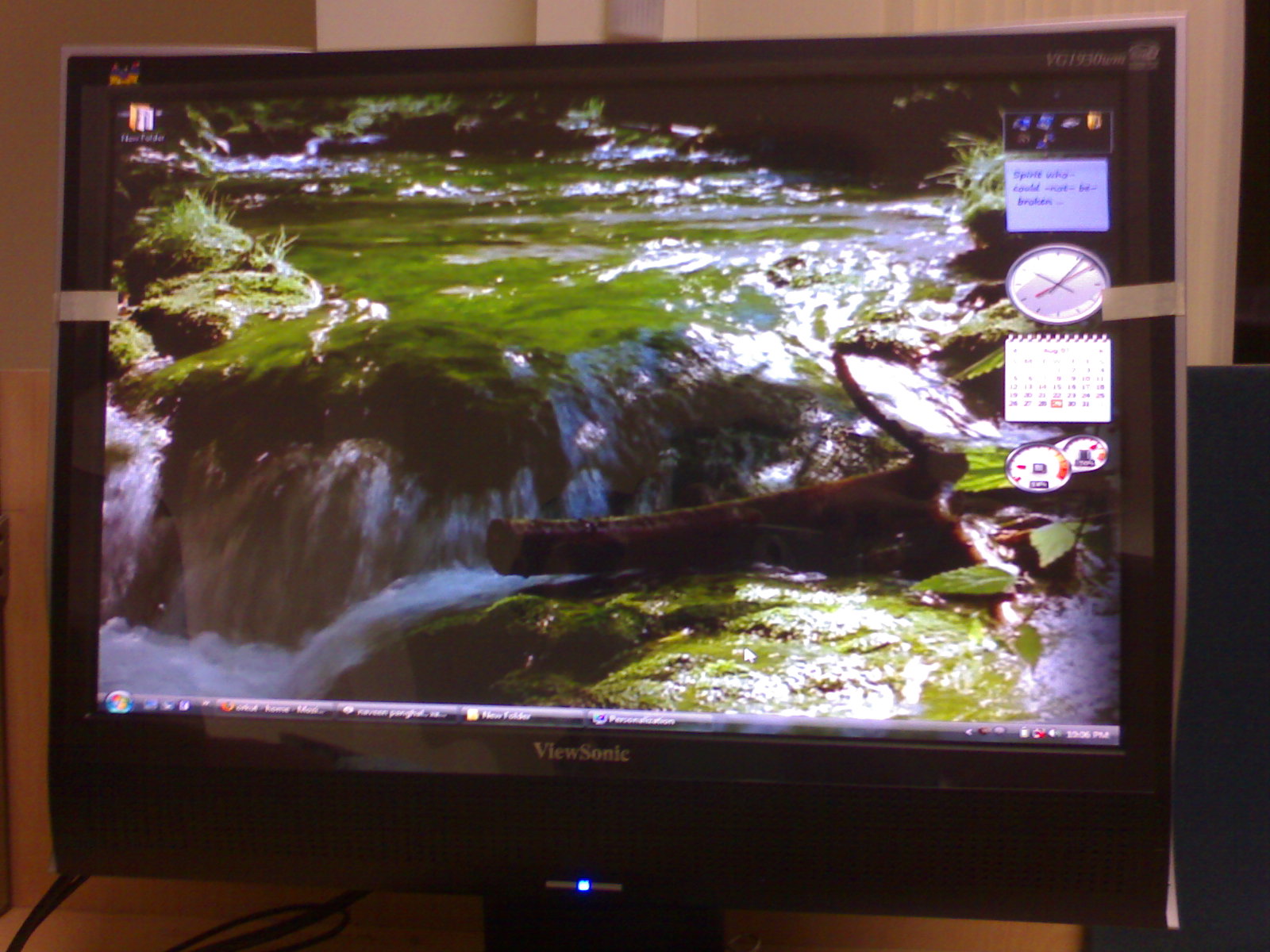 Here is a video as well.
PS0 : I am very happy today … of course I have reasons 😀
PS1 : We will have a data center with ajay's 500GB HDD 😉
PS2 : I am planning to get either a XFX nVidia GeForce 8600GT or I'll go for mobo and processor upgrade so that I can use my old Samsung SyncMaster 793S 17″ CRT monitor with this LCD monitor in dual display mode. Now, that would be the coolest(?) thing 😀
PS3 : I am a bit showing off 😉